Hey, students – #RideWithTheG and save 25%!
15 February 2021 - 31 August 2021
Gautrain understands that adulting can be expensive and that savings matter – especially when you are a student. So, till end August 2021, we are giving students a 25% discount on Gautrain fares between two destinations of your choice.
This means that if you stay in Midrand, for example, and study in Centurion, then you will save 25% on train trips between these two stations on any day of the week, during peak and off-peak hours.
And because the 25% savings go directly into your pocket, you have more to spend on bling, swag, life or whatever matters most to you. Invite your friends to #RideWithTheG and enjoy the journey together.

How it works
On 1 March 2021, Gautrain will be launching a Student Promotion affording you a 25% discount on train trips between two stations of your choice.
If you are a full-time student, registered at an accredited institution of higher education in Gauteng, and are under the age of 25 – this one's for you.
Gautrain has partnered with Varsity Vibe for the student verification process. To make the registration process faster, you can already sign up with Varsity Vibe for free and enjoy the perks of life: https://varsityvibe.co.za/
Registration for Gautrain Student Promotion
Sign up from 1 March 2021, using these three easy steps.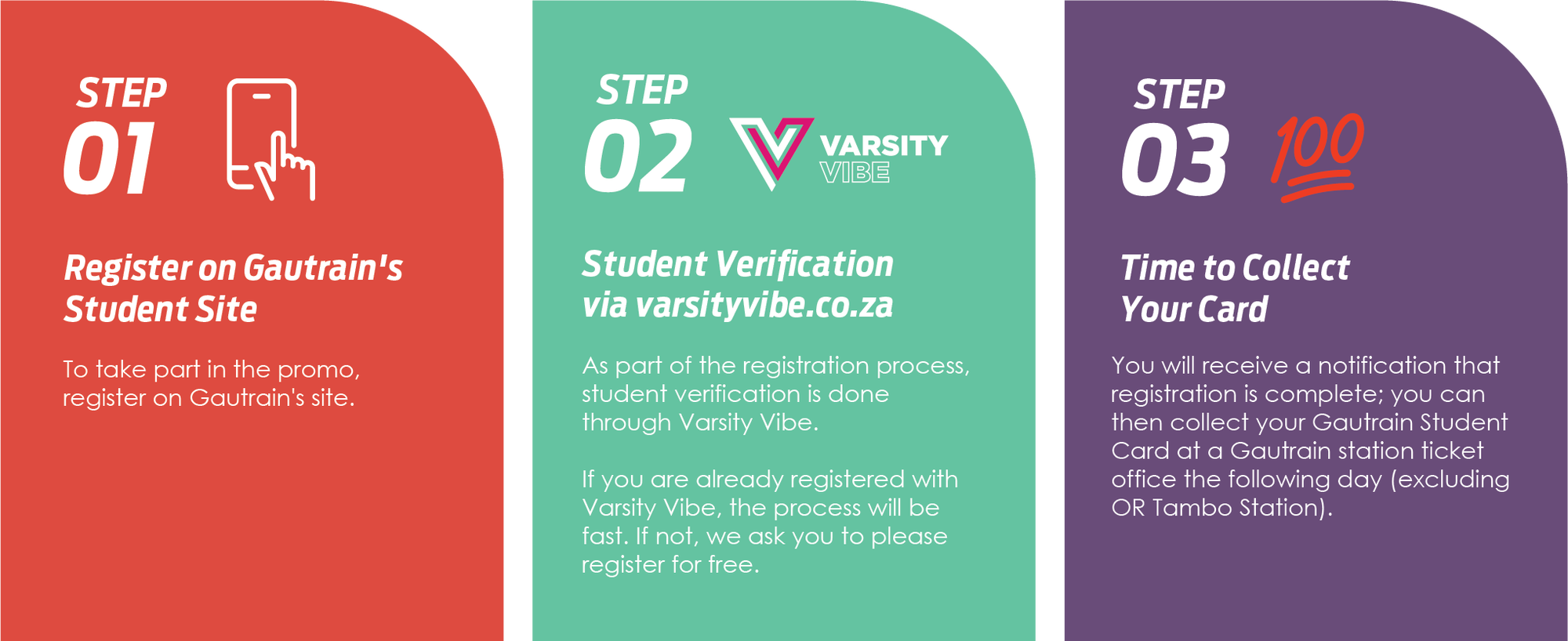 More good news is that you'll be able to choose from four amazing designs for your Gautrain Student Card! Check them out here and choose the one that best fits your style.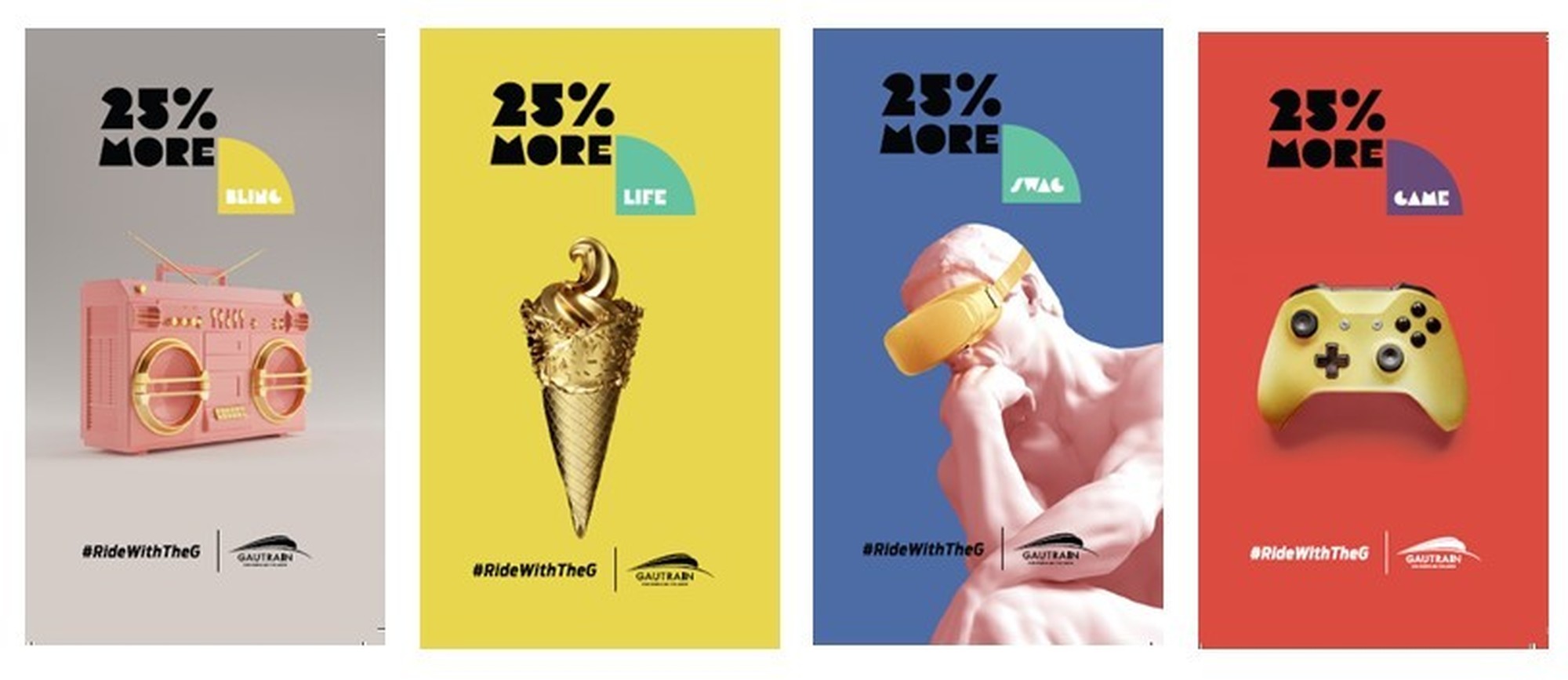 Terms and Conditions of use
These Terms and Conditions are applicable to you when you accept and use the Gautrain Student Card, and with such acceptance and use you are deemed as agreeing to these Terms and Conditions, which are between you and Bombela Concession Company (RF) (Pty) Ltd ("BCC").

1. To be eligible for the Student Promotion, you must fulfil the following requirements.
a. You must be a student registered on a full-time basis at an accredited institution of higher education in Gauteng.
b. You may not be older than the age of 25 upon registration.
c. You will need a valid identity document (ID) to collect the Student Card, i.e. green ID book, smart ID card, driver's licence, passport or birth certificate.

2. Students wishing to apply for the Student Promotion need to register via the Gautrain website: https://www.mygautrain.co.za
Please note: Gautrain has partnered with Varsity Vibe to verify if applicants are registered full time at an accredited tertiary institution in Gauteng.

3. The day after approval of the application, mentioned in point 2 above, the student may collect his/her Gautrain Student Card ("the Card") at a Gautrain Station Ticket Office ("TOM"). Cards are to be collected within a two-week period from registration.


4. Upon receipt of the Gautrain Student Card, students will be required to register a profile on the Gautrain website or mobile app and to link their Gautrain Student Card to this account.
Please ensure that personal details, including a valid South African mobile number, are correctly captured when registering on the Gautrain website. BCC, its sub-contractors, agents and affiliates, will not be held liable if the contact details have not been captured correctly.

5. The Student Promotion is valid from 1 March 2021 to 31 August 2021.
BCC reserves the right to withdraw, postpone, amend or suspend this promotion at any time and for any reason which may be deemed necessary, without prior notice.

6. The Student Promotion is only valid when purchasing the following products:
- Student 10 Trips: 10 train trips valid for a period of 10 days
- Student 44 Trips: 44 train trips valid for a period of 44 days

The Student Promotion 25% discount applies to train trips between two chosen destinations when purchasing a student product (excluding OR Tambo International Airport).
The 25% discount does not apply to bus/midibus trips, parking or train trips to other destinations; standard bus-rail discounts apply here. Students are to ensure that there is adequate value on the card for these services by topping up the pay-as-you-go value on the card.

7. Through the partnership with Varsity Vibe, students are afforded all discounts offered via the Varsity Vibe platform. For this reason, students are not able to take part in the Gautrain Rider Rewards promotion and claim double discounts.

8. Students can purchase these products via the Gautrain TOM or Ticket Vending Machine ("TVM") using the Gautrain Student Card that he/she has been allocated.

9. The validity end date of the Student Product can be viewed using the TVM at any Gautrain station or via the Gautrain website.

10. All Gautrain cards are valid for 5 (five) years from date of manufacture and must be replaced thereafter.

11. The standard Gautrain refund processes shall be followed for all refunds. If your Student Card is lost or stolen, please email studentproduct@gautrain.co.za immediately to block the Card and apply for a new one.

12. BCC and/or its sub-contractors reserve the right to verify, at any stage, that you are a student. Should your status as a student change, the onus is on you to inform Gautrain via email at studentproduct@gautrain.co.za or by contacting the Call Centre at 0800-GAUTRAIN or 0800 428 87246 (toll-free).

13. BCC, and/or its sub-contractors, reserves the right to do fare evasion checks where proof of "student" identity would be required. Should you be found to contravene these terms and conditions, your Gautrain Student Card will be automatically blocked.

14. All standard Gautrain rules are to be observed at all times. Penalty fees may be applied should passengers fail to adhere to the Gautrain rules. Please refer to the Gautrain website for Gautrain Travel Rules: https://www.gautrain.co.za/commuter/generalinformation

15. In accordance with South African laws, and BCC's confidentiality policies and practices, none of the details of any participant in this promotion will be disclosed or used for any purposes other than for entry into this promotion or any opt-in services offered upon registration.

16. If you have an queries, please send an email to studentproduct@gautrain.co.za or contact the Call Centre at 0800-GAUTRAIN or 0800 428 87246 (toll-free). We also have a LiveChat available at https://www.gautrainalerts.co.za/contact/

17. By participating in this promotion, you acknowledge that you have read, understood and agreed to these terms and conditions.